Veronica Varlow, The Wayshower
Internationally acclaimed Burlesque star, Veronica has been called "A modern day Marlene Dietrich" by CBS News and "Hypnotizing and mesmerizing" by Jay Leno on the Tonight Show. A crystal-encrusted "burlesque chanteuse" (Elle), Varlow serenades with a smoky voice reminiscent of the silver screen sirens of the 1940s.
e. James Ford, The Lightgiver
E. James Ford is an performer, writer, and designer based in NYC. He recently performed in Private Manning Goes to Washington and  travelled across the country with the EveryHere Logistics Night Market, creating immersive art in the back of box trucks. Other recent appearances include NY Times favorite The Dreary Coast, Biter (Everytime I Turn Around), Speakeasy Dollhouse, Wilde Nights, and Novacation. As a storyteller, he has performed for the Liar's League and No, You Tell It! series and one of his performances was recently broadcast on BBC Radio. He was a regular on the sci-fi show Pioneer One and appears frequently in commercials.
Evgeniya Radilova, Tatiana
Born in tiny East European Bulgaria, Evgeniya Radilova is the daughter of the famous Bulgarian actress Silva Avramova, and father Petko Radilov, a highly regarded director. By 20 years old she had already become a well-known personality on major Bulgarian shows, and she relocated to New York to graduate from The American Academy of Dramatic Arts with honors. She has since landed roles in such popular TV shows as Limitless (CBS) Law and Order SVU (NBC), Sex and Drugs and Rock & Roll (Fox), Elementary (CBS), as well as acting in many off-broadway plays and independant film.
Benjamin Cerf, The Lawmaker
An active member of Brooklyn's legendary underground circus and avant-garde theater space House of Yes, Ben Cerf has lived in France, California, Austria and NYC creating music, performance activism, video animation and general mischief. He currently works with Time's-Up!, Reverend Billy and the Church of Life After Shopping, The Living Theater, the Hungry March Band, and is a very convincing pirate.
Faerie Performers:
Natasha King, Tiffany Valentin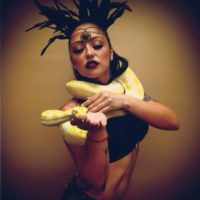 Ali Luminescent,  Christine Geiger
Jay Schuurman